Skip to Content
Bathroom Installation Services
Professional Bathroom Installation Services in Rochester, NY
We want your bathroom to look even better than you imagined it could. Because the end result has as much to do with the construction process as it does with the design, at Four Points Remodeling we provide unparalleled professionalism when installing vanities, tiles, plumbing, or other items in your bathroom.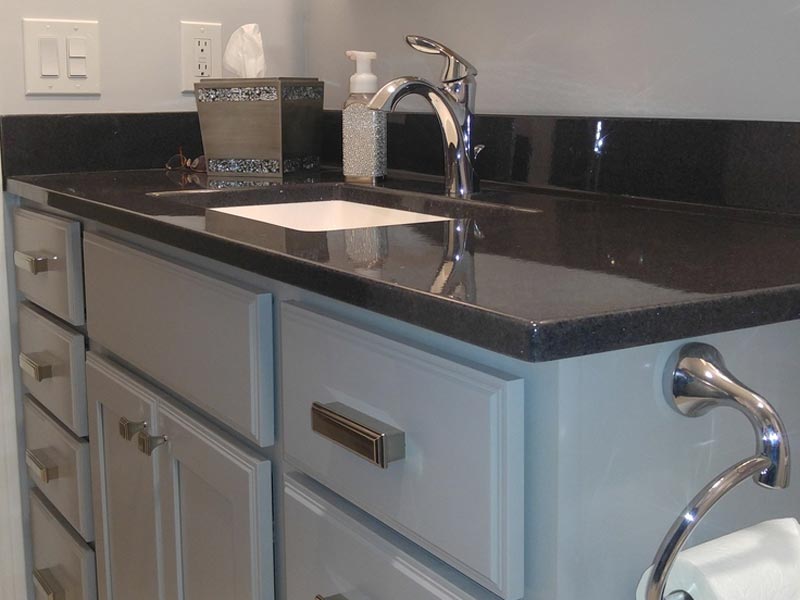 Professional Bathroom Installation Services
We understand that your home is your sanctuary. Our highly skilled installation team will create and maintain a clean, calm work environment that's respectful of your space. With years of bathroom remodeling experience, co-owner Jim Montgomery oversees every bathroom installation project to ensure that we provide high-quality work.
Our Process
When we design your bathroom we consider the best layout for the space, the spa-like features you may want to add, or the color palette that will soothe you after a long day. When we visit your home during the initial consultation, we'll measure the dimensions of your bathroom to determine which types of layouts are possible within the space. After you decide on the plan that best fits your vision, you'll visit our showroom to select materials for your bathroom's design. Missie Montgomery, our designer, and co-owner will guide you through the process, bringing decades of design experience to your project. Once you've chosen the perfect styles, our team of skilled craftsmen will bring it all together.
The team at Four Points Remodeling is proud to help homeowners in the Rochester area add value to their bathrooms. See what our satisfied customers have to say about our work. If you would like to set up a consultation, contact us on our website or give us a call at 585-385-0003.
Trusted, Family-Owned Home Remodelers

Four Points Remodeling is proud to be among the top home remodeling contractors in Pittsford and the Rochester region. We provide quality kitchen and bath remodeling services to help you create the dream home you've always imagined. Explore our portfolio of kitchen and bath remodels to see some of our work.


Hours of Operation
Monday-Friday
9:00 a.m. – 4:30 p.m.